Knowing I would have a full day to work with my camera on Saturday, I had been pondering how to best take advantage of this precious time. What would my subject matter be? What look and feel did I want to create? How about a theme idea? These questions bounced around in my head for most of the week as I wanted to photograph something completely different.
So as I was drinking coffee this morning and staring out the window, I noticed the wind was really whipping up. Although our forecast was calling for mid 90's, the humidity and wind would also be part of the equation. This combination turned out to the be the answer to my creative prayers.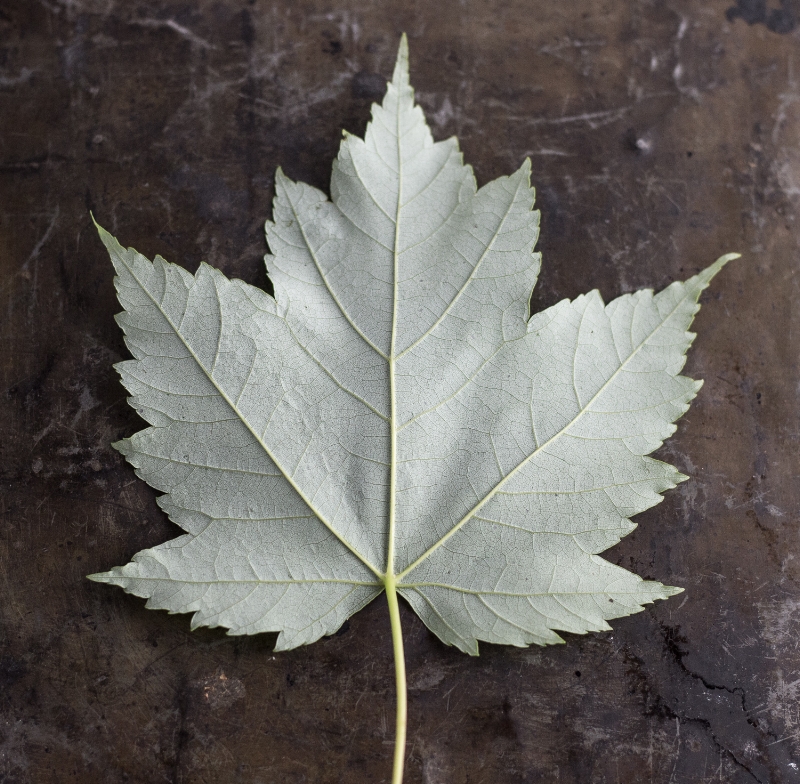 When the leaves blow
backwards....
As the wind began to really kick into high gear, I noticed the leaves on the Maple tree "blowing backward" which I have been told this means a storm is coming. I was in awe as the color on the underside of the leaves captured my attention.
Among the green was this ocean of steel grey celery tones that were just magnificent as the leaves blew backwards...
After gathering a handful of leaves I decided to focus on the underside and played around with backgrounds. I use a Canon 70D with a 50mm 1.8 lens and LOVE IT! All of my shooting is done in RAW and I do all of my post processing in Lightroom. Shooting in Raw does require some editing and Lightroom is such a fantastic and easy way to achieve the look I want. Lightroom allows me to refine my images using a few select controls that have become a workflow process and provides the extras to change things up when I want to.
I use the Photography Plan (includes Lightroom and Photoshop) through Adobe CC and this works ideal for me.
All of these images were taken in my indoor small studio space, away from any windows, and using a softbox light source from the right.
For some of the images I really wanted to emphasize the cool grey/green color on the underside of the leaves and for others, a bit more green just to see which I preferred. After some experimentation with with the vibrance and saturation settings, it was interesting to see the transformations.
In order to provide you with a color point of reference, I wanted to include leaves with the green side as well to really show off the back. Using a variety of aperture settings ranging from f3.5 all the way up to f22, it was magical watching the focus points change depending on the angle I was shooting with.
Another vital tool I use in my photo shoots is my trusty tripod. I have tried to convince myself that maybe there are some of those strange angle shots that do not require a tripod and 9 times out 10, I am disappointed when reviewing the images. They are blurry and basically unusable which is quite sad when the composition is just where I wanted it.
If there is one recommendation I can provide, that would be to USE A TRIPOD!
After using a tripod a few times, it becomes second nature and I guarantee you your images will be in focus so much better than without it! Tripods can be VERY pricey but to be honest, my tripod is several years old and I know I didn't pay over $50 for it. I love that dang thing!
Before starting this photo idea, I visited Pinterest to see if a "maple leaf" search would provide inspiration. Turns out, most of the maple leaf images are those beautiful fall colored gems but I was hard pressed to find images of the underside. Aha! Perhaps a new trend? (smile)
As I wrapped up the leaf shoot, I couldn't help but take a snip of the English Thyme I have in my outdoor herb pots and wouldn't you know....
...that started a whole new photoshoot! I took snippings of Tarragon, Chervil, Sage, Basil, and Rosemary and the photography started all over again!
Here is a little snippet of what is to come...
I would love to hear your comments or to answer any questions you may have on my indoor studio set-up, lighting equipment or Lightroom editing process. I am hoping to incorporate more simple and quick tutorial type posts in the near future and you feedback will help me design those for you with the most useful information. Please either comment below or email me directly - I will be sure to reply and look forward to meeting you!
Thank you for your visit and be sure to sign up for email notifications of new posts to follow along - I would so appreciate it!
Sincerely,
Joan